A symposium entitled: "King Lear" 1. Series: Human Discourse in the Language of Drama between the Cocoon of Novel and the Shorthand of Cinema II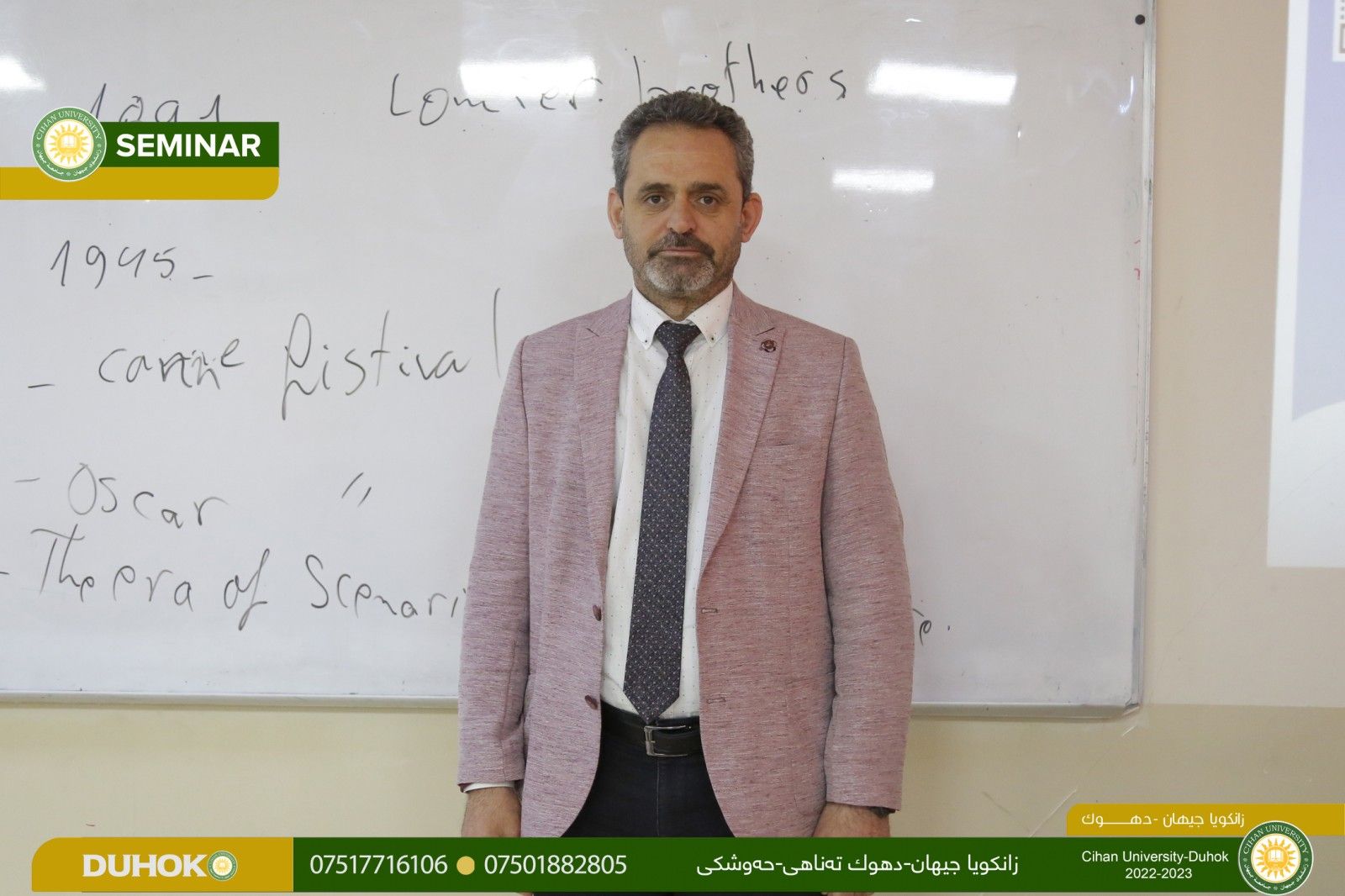 Today on (May 23, 2023) in the presence of the head of departments and lecturer a symposium entitled ("King Lear" 1. Series: Human Discourse in the Language of Drama between the Cocoon of Novel and the Shorthand of Cinema II ), was presented by Assistant Professor (Dr. Ahmad Abdulkareem Shaban) from the English department, Where it has been explaned about King Lear is one of the most extraordinary characters in the history of English literature. The complexities of this psychologically complex personality, strong, unexpected, and fragile at the same time, gave us one of the strongest tragedies in history. King Lear is not only about a king and his divided world, but also about a father, his possessions, and his three daughters. The play King Lear is considered one of the most powerful tragedies created by Shakespeare. The fall and collapse of King Lear was due to internal reasons and personal decisions, the most important of which was the division of the kingdom among his three daughters. From the beginning of the play, you notice the features of haste, recklessness, self-destruction, and weak family cohesion. This resulted in war, chaos, and a tragic end. Lear as the main character is close to God represented in the Old Testament, he is angry with his creation because they failed him and regrets that he created them. Angry, madly, and disappointed, he abandons them, himself, and his responsibility. When the play reaches its end, amid images of division, cracking, and explosion, the disputes between families and the dispute between kingdoms end up tearing hearts apart. The hearts of Gloucester, Kent, and Lear collapsed one by one in a moment of renewed unity. Gloucester dies at the moment of reunion with his son, and Lear dies to join Cordelia. Finally Kent joins Lear. In the end, the play's characters achieve a certain kind of unity in the tragedy of their fate. William Shakespeare is universally known for his literary output both in poetry and drama. Whether through his laugh-invoking comedies or his heart-wrenching tragedies, Shakespeare's plays have changed the course of literature. Many of his plays about love are widely praised by all, but Shakespeare's King Lear differs from the rest due to its definition of love. King Lear serves as a battleground between deception and compassion, between flattery and honesty., a set of questions and answers were raised on this subject.
References:
• Barish, J., & Waingrow, M. (1958). "Service" in King Lear. Shakespeare Quarterly, 9(3), 347-355. doi:10.2307/2867337.
• Ashliman, D. L. ed. (9 February 2013). "Love Like Salt: Folktales of Types 923 and 510". Folklore and Mythology Electronic Texts. Retrieved 2 November 2018
• Foakes, R.A. ed. (1997) King Lear. The Arden Shakespeare, third series. Bloomsbury Publishing.